I spent the next 3 days in El Salvador at Adopting Bitcoin.
I really have nothing but positive things to say about this event. The existence of two conferences on the same road was somewhat bizarre and confusing, but I enjoyed the event I attended.
We're seeing a pretty incredible experiment unfold before our very eyes in El Salvador, and #adopt21 was very focused on how we make this a success.
The event was divided into 2 tracks: DEV and ECON. In my opinion, the "economics" track was basically just a place to put everything that wasn't strictly developer focused.
Semantics aside, there was great programming in each of these tracks. I appreciate the pragmatism of these speakers: instead of far-flung discussions about the future, the content centered around how to build Bitcoin and Lightning infrastructure here in the present, as well as the use-cases and benefits this technology brings with it.
Some notes from the conference as I experienced it.
Tuesday
LNBIG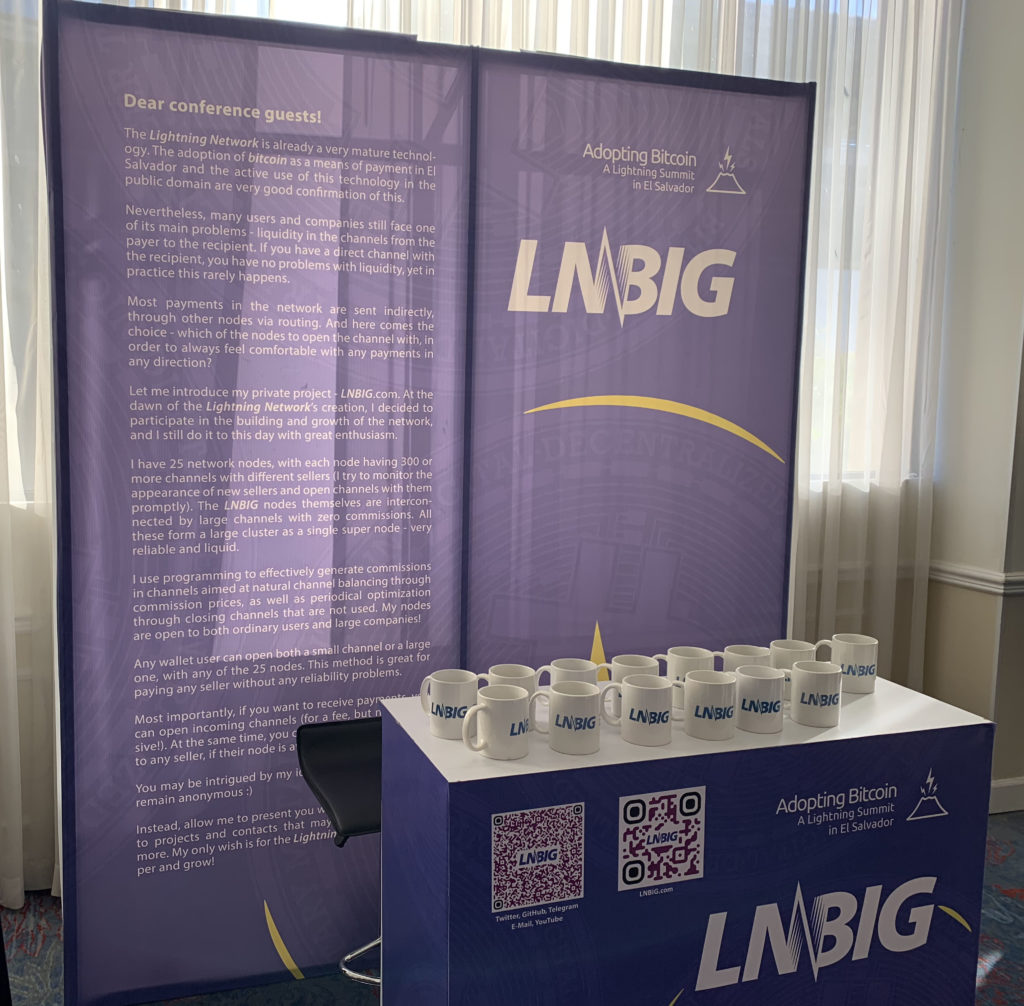 I thought it was interesting that the anonymous maintainer of LNBIG had a booth erected here. I missed out on snagging one of the coffee mugs, which I would have greatly enjoyed primarily due to the 1990's design sensibilities of the LNBIG logo.
Opening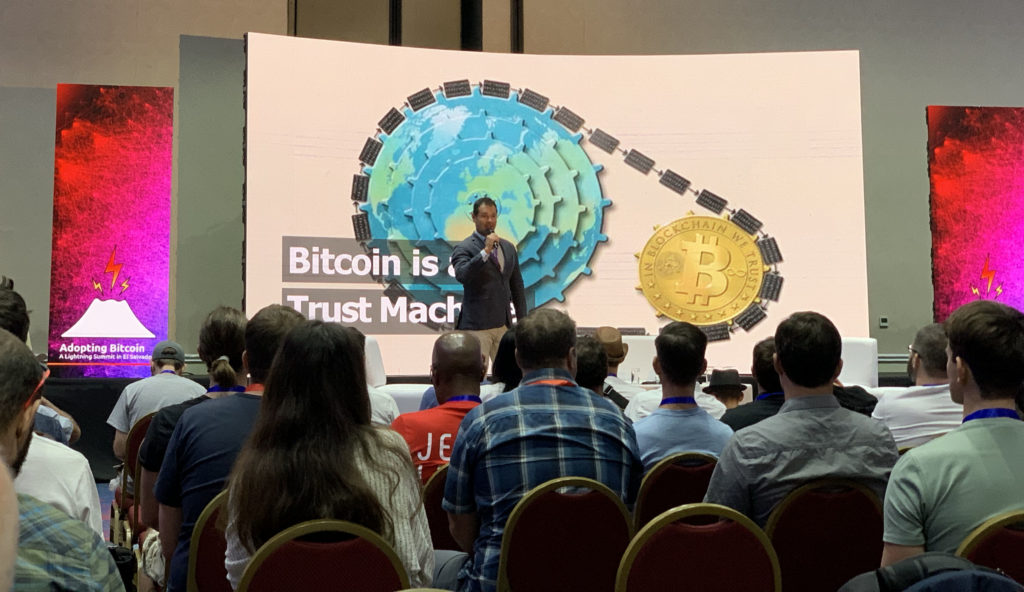 I started off in the Econ room. Chris Hunter of Galoy kicked things off in that room, and then we heard from María Luisa Hayem Brevé (Minister of Economy El Salvador) and Morena Ileana Valdez Vigil (Minister of Toursim El Salvador). Then there was a panel of several people discussing the Bitcoin Beach project.
BDK + LDK
Conor Okus of Square Crypto spoke about Bitcoin Dev Kit, Lightning Dev Kit, and funding open-source.
Design
It was good to hear a panel focused entirely on design and user experience. Alexandra Moxin moderated this panel with Johns Beharry, Anthony Potdevin, and John Carvalho.
About an hour before this talk, John took his company Synonym out of stealth mode.
Wednesday
Building the perfect LN wallet
Giacomo Zucco had a really good talk called "The perfect LN wallet: what we dream of, what we have now". I enjoyed this because it's very pertinent to a lot of the discussions we're having over in Bitcoin Design. Designing good Lightning wallets that adhere to Bitcoin principles can be a difficult task. Presently, tradeoffs are made.
Bitcoin Beach Wallet
I learned a lot about the Bitcoin Beach wallet at this event. The wallet runs on top of Galoy's open source Bitcoin banking infrastructure.
The wallet itself has a very simple UI and a really cool educational feature where the user is paid in bitcoin to learn about Bitcoin. More on that later.
Creator Economy
Anita Posch moderated a panel with Roy Sheinfeld, Michael Tidwell, Colin Harper, and Desiree Dickerson called "Lightning and the Creator Economy".
I thought it was important to highlight this talk not just for having a friend on the panel, but as a reminder that Bitcoin can be used to compensate creators. So much of the narrative about cryptocurrency and creativity has centered around NFTs that it's easy to forget you can support your favorite creators by simply paying them with the hardest money in the world.
LNBits and LNURLPoS
LNBits is a neat platform which you can connect to your Lightning node and then install extensions for various features. Somebody described it as "the WordPress of Lightning"; I think the comparison is between LNBits' extensions and WordPress' plugins.
I attended Ben Arc's workshop to construct an offline PoS (point-of-sale) terminal for accepting Lightning payments. Essentially, this hardware device is not connected to the internet, but is capable of generating an LNURL QR code.
The QR code can be scanned with a Lightning wallet, whereby an invoice will be created for the correct amount of sats. When the Lightning payment is completed, the wallet displays a 4 digit number in response. If the 4 digit number matches the 4 digit number on the offline POS terminal, then the merchant can be confident that the payment succeeded.
Several people have asked me: what is the use-case for such a piece of technology? Considering that the payer still must be online, what is the benefit in letting the merchant remain offline?
For one, I imagine this could speed up payments. For example, if you have a very busy cafe on a very busy street, then I think you would remove a fair bit of network traffic if merchant POS terminals don't have to be directly connected to the Lightning network.
I also think there is the opportunity for a smoother UX for the merchant: I witnessed some people in El Salvador on the merchant side struggling with being able to manage LN invoices while running a busy tienda. Simplifying the POS into a simple device where you punch in the price of the order and then check the PIN number could be easier for some merchants.
Finally, I see this as being useful for something like a Lightning-enabled vending machine. This prevents the machine from needing to be connected to the WiFi or having its own SIM card and data plan (a common but annoying consideration when building IoT gadgets). The user flow is somewhat simple: require the user to manually punch in the correct 4 digit number at the end of the payment to retrieve their product. Case in point: somebody demoed a Lightning enabled beer keg at the conference which had many internet issues on Friday; an offline POS would have remedied that.
I'll detail the El Zonte portion of the conference in my next post. That deserves its own write-up.